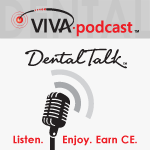 Series: Pierrel Pharma
Guest: Dr. Tanya Brown
CE Credits: 0.25 CEU
Release Date: 6/4/2019
Dental podcast hosted by Dr. Phil Klein: This Viva Podcast will discuss five things that could be costing your dental practice thousands of dollars. Our guest is Dr. Tanya Brown, dentistry's expert on Case Acceptance. She understands how each team member is a vital contributor to the success of the practice. For over 25 years she has worked in every area of a dental practice from chair-side dental assistant, to practice administrator, to owner dentist and founder of The Center for Cosmetic & Restorative Dentistry.
Please
Log in
to take exam and earn CE credit.
Diagnosing Early Stage Oral Cancer: You Can Make a Difference!
11/4/2019 - CE Credits: 0.25 CEU
(
Take Exam
)
Oral Cancer: What the Dentist Can Do.
8/7/2019 - CE Credits: 0.25 CEU
(
Take Exam
)
TOOTH BE TOLD: 5 Things that Could Be Costing You Thousands
6/4/2019 - CE Credits: 0.25 CEU
(
Take Exam
)
View All Episodes from this Series »